Health and Safefy
Funny Bits
Copyright Forklift Training 4u 2011©. All Rights Reserved.
|
|

Forklift Training 4u
LEGISLATION
Provision and Use of Work Equipment Regulations 1998 (PUWER 98)
Use of Work Equipment
Every employer shall ensure that all persons who use work equipment have received adequate training for purposes of Health & Safety, including training in the methods which may be adopted when using the work equipment, any risks which such use may entail precautions to be taken. This also applies to those who manage & supervise people who use work equipment and also to the self-employed." 1998 (PUWER)
Health & Safety at Work Act 1974 Section 2 (1)
"It shall be the duty of every employer to ensure, so far as is reasonably practicable, the health safety and welfare at work of all his employees."
Health & Safety at Work Act 1974 Section 37 (1)
"Where an offence... committed by a body corporate is proved to have been committed with the consent or connivance of, or to have been attributable to any neglect on the part of, any director, manager, secretary or other similar officer of the body corporate or a person who was purporting to act in any such capacity, he as well as the body corporate shall be guilty of that offence and shall be liable to be proceeded against and punished accordingly."
Click below for more information (HSE Guidance Notes - PDF Format)
THE PROVISION AND USE OF WORK EQUIPMENT REGULATIONS 1998 (PUWER 98)


LIFTING OPERATIONS & LIFTING EQUIPMENT REGULATIONS 1998 (LOLER 98)


PERSONAL PROTECTIVE EQUIPMENT AT WORK REGULATIONS 1992


WORKING AT HEIGHT REGULATIONS 2005


REPORTING OF INJURIES, DEATHS AND DANGEROUS OCCURRENCES REGULATIONS 1995 (RIDDOR)


THE MANUAL HANDLING OPERATIONS REGULATIONS 1992 (& 2002)


THE CONTROL OF SUBSTANCES HAZARDOUS TO HEALTH REGULATIONS 2002 (COSHH)
HEALTH & SAFETY - FORKLIFT TRAINING SOUTHAMPTON, FORKLIFT TRAINING PORTSMOUTH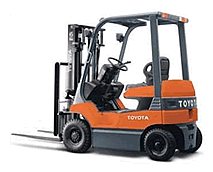 Training is carried out by R.T.I.T.B. registered instructors








Contact us today on 0845 130 7424 or Mobile: 07929 001 208
Contact us today on 0845 130 7424 or Mobile: 07929 001 208
Forklift Training Southampton, Forklift Training Portsmouth & Forklift Training London


Forklift Training Southampton, Forklift Training Portsmouth & Forklift Training London